Yale calls these cupcakes magic. Magic because they taste good, magic because they make you smile, and magic beccause cupcakes make you happy. I call them magic because they are made without white sugar and white flour. Gordy calls them magic because he can make them disappear real quick.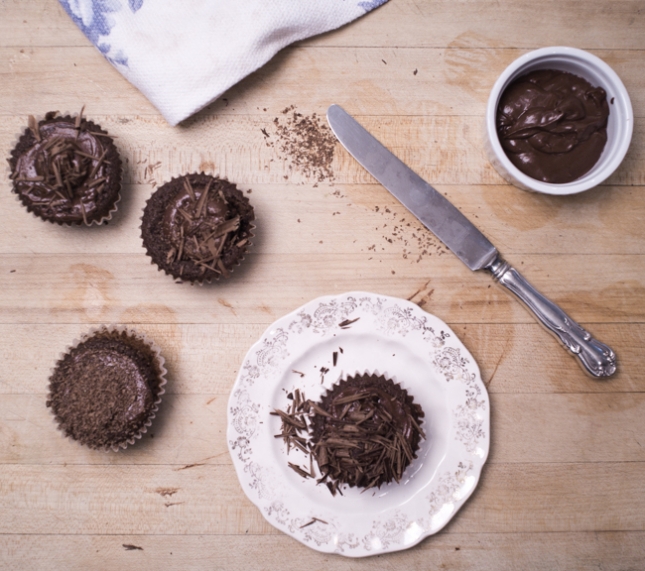 This recipes makes 12 cupcakes.
This recipe was developed by my friend Karen from Nutrilicious and myself. We spend many afternoons baking, testing and eating these cupcakes. Thanks to our personal testers Mark, Marcy, Haley, Gordy and Yale, you worked hard eating the dozens we made!
Ingredients:
1 tsp apple cider vinegar
2/3 cup unsweetened almond milk
1 cup gluten-free flour
1/3 cup cocoa powder
1 tsp espresso powder (optional)
½ tsp baking powder
¾ tsp baking soda
¼ tsp sea salt
¼ cup agave
¼ cup maple syrup
3/4 cup safflower, canola or melted coconut oil
1 ½ tsp vanilla
Directions:
Preheat oven to 350.

In a small bowl, mix apple cider vinegar and soy milk. Let it sit for a few minutes.
In a separate bowl, combine the flour, cocoa, espresso powder, baking powder, baking soda and salt. Mix well with a whisk.
Beat the milk mixture again. Add the agave, maple syrup, oil and vanilla to the milk mixture, whisking until well combined.
Add the wet ingredients to the dry ingredients and mix well until only a few lumps remain. Do not overmix.
Spoon into greased or lined muffin cups.
Bake for 12-14 minutes.
Cool completely before frosting.
Frosting:
Ingredients:
½ cup cocoa powder
¼ cup plus 2 tbsp Earth Balance or vegan margarine, softened
½ tsp vanilla
½ cup maple syrup
Directions:
Process all ingredients in a food processor or blender until smooth and creamy.
Spoon onto cooled cupcakes.
Shave or grate some dark chocolate to top your cupcakes, (optional).