The power of soup is strong. I was in the kitchen as a volunteer, at Holy Blossom Temple to help prepare soup to bring to people in need of some warmth over the winter months to follow. I was so surprised how quickly 28 woman can work together to make soup. Keeping us stirring the pot was guest chef, food writer, and author Lucy Waverman. While the soup simmered Rabbi Karen Thomashow stirred a little spirituality into the evening, leading a discussion about the mitzvah of Bikur Cholim. I went home with 2 new soup recipes and the knowledge of how something so simple like soup can bring people together!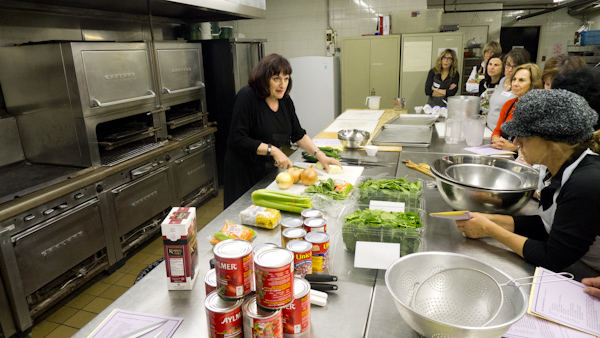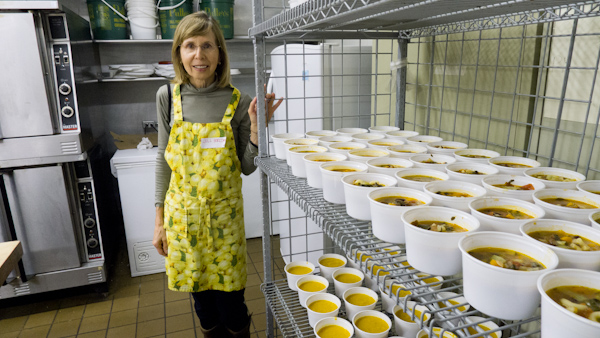 The power of soup is strong. Last week over 40 thousand people gathered at Woodbine Park for Soupstock, a one-day celebration that features soup created by over 200 Canadian chefs to raise funds to support community action against the Mega-Quarry. Two of those chefs are friends of mine, Lisa Kates, aka A Food Gypsy and Joanna Sable, from Bumpercrop, both are cooks extraordinaire. Lisa made a rich caramelized beer onion soup topped with Bumpercrop's Cameron's Beer Onions and baguette from Knead Bakery. A group of us volunteers met at The Depanneur, a cozy little spot in the Junction to do our cooking, we came to peel onions, chop onions and caramelize onions. I went home smelling like an onion!
Lisa Kates and Gail Gordon Oliver, from having some fun at the Dep while the onions simmer.
Lisa and Joanna serving up soup at Soupstock
Here are the two recipes from Lucy Waverman that we made at Holy Blossom:
Multi Bean Minestone
Serves 6 to 8
2 tbsp olive oil
1 cup chopped onion
1 tsp of minced garlic
1 cup chopped carrots
1 cup chopped celery
1 28 oz can tomatoes, chopped with juice
1 tbsp chopped fresh basil
1 tsp dried oregano
½ tsp chili flakes
4 cups stock or water
1 can romano or other beans drained
1 bunch spinach, stemmed and chopped
1 cup zucchini, chopped
1 cup short pasta (macaroni, orzo, etc)
Salt and freshly ground pepper
Grated Parmesan
In large soup pot, on medium heat, add oil. Sauté onions, carrots, celery and garlic for 2 minutes or until softened. Add tomatoes, herbs, chili flakes, stock, spinach, zucchini and pasta. Simmer for 10 minutes. Add beans and simmer 10 minutes longer or until pasta is tender. Season well with salt and pepper. Serve with grated parmesan.
Sweet Potato and Pear Soup
Serves 6 to 8
The sweeter the pears, the more heat and acid you need to balance the taste.
2 tablespoons olive oil
1 cup chopped onion
¼ cup chopped carrot
¼ cup chopped celery
large sweet potatoes, peeled and diced
1 pear, peeled and diced
teaspoon fresh thyme
1 teaspoon paprika
5 cups vegetable stock, low salt canned or home made
¼ cup whipping cream, optional
2 teaspoons maple syrup or to taste
4 teaspoons lime juice or to taste
Heat oil in a pot on medium heat. Add onion, carrot and celery and sauté for 1 minute. Add sweet potato, pear and thyme and sauté about 2 minutes. Add paprika and chicken broth. Bring to boil and simmer for 15 minutes or until sweet potato is soft.