24 Volunteers
1 Rabbi
15 pounds of potatoes
5 pounds of carrots
and a pound of onions
…take all these "ingredients" and what do you get?
4 stock-pots of delicious soup!
I was thrilled to have the honour of leading a group in women in soup-making for the Bikur Cholim Soup Brigade evening at Holy Blossom Temple. Bikur Cholim is Hebrew for "visiting the sick", and what we did was chop, dice and stir two big batches of soup. While the soup simmered the room filled up not only with delicious cooking smells, but the warmth of people working together and a Talmud study session lead by Rabbi Teri Appleby. We all left that evening with a good feeling in our hearts, leaving behind 100 containers of some great-tasting soup that will help warm some people over the coming winter months.
Here is the link to Holy Blossom's Bikur Cholim if you would like to know more.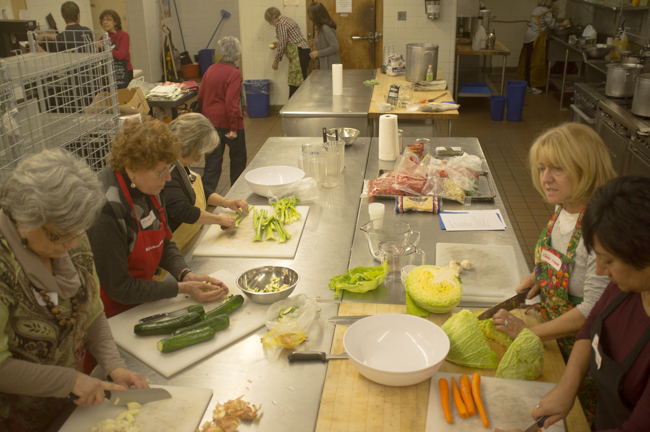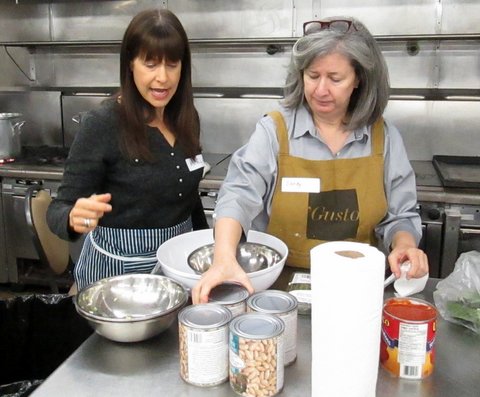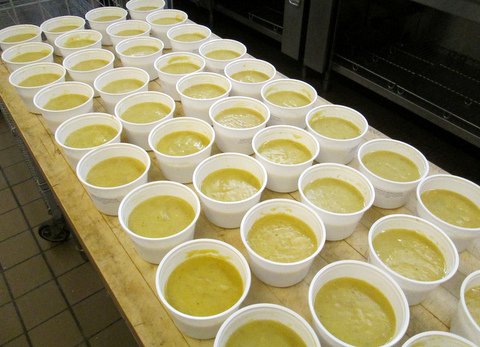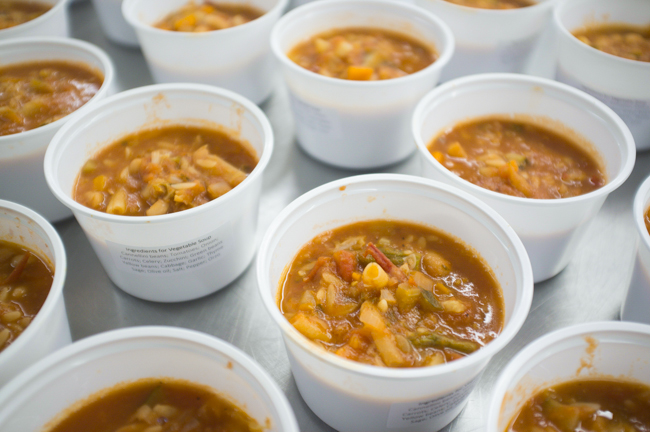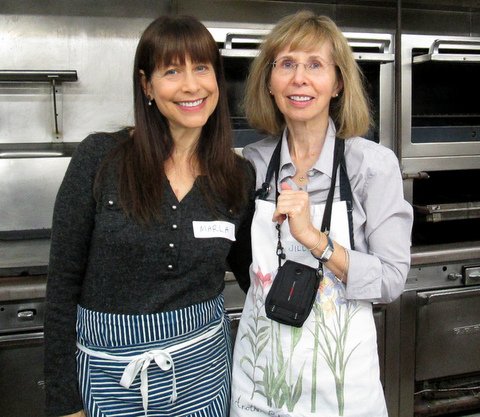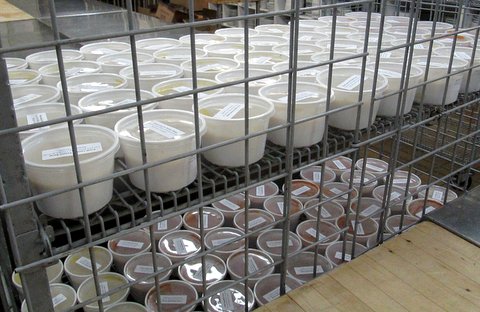 Here are the two recipes we made:
Vegetarian Vegetable Soup
This recipe serves 4 to 6
Ingredients:
1 can cannellini beans, drained and rinsed well
1 tablespoon olive oil
1/2 large onion, diced (about 1 cup)
2 carrots, diced (about 1/2 cup)
2 stalks celery, diced, (about 1/2 cup)
1 small zucchini, diced (about 1 1/2 cups)
1 cup green or yellow beans, sliced
1 clove garlic, minced
1 tablespoon chopped fresh thyme leaves (or 1 teaspoon dried)
2 teaspoons chopped fresh sage leaves (or 1/2 teaspoon dried)
1/2 teaspoon salt
1/4 teaspoon freshly ground black pepper
4 cups water
1 can diced tomatoes
2 cups chopped savoy cabbage, sliced
½ cup orzo or any small pasta
Directions:
In a small bowl mash half of the beans with a masher or the back of a spoon, and set aside.
Heat the oil in a large soup pot over medium-high heat. Add the onion and celery, sauté until soft. Add the garlic and continue to cook for another few minutes or until the garlic is fragrant.
Add the water and tomatoes with the juice.
Then add the vegetables, the thyme, sage, salt and pepper.
Bring to a boil.
Add the mashed and whole beans.
Simmer for 30 minutes or until the vegetables are soft.
Taste and adjust seasonings, you may need more salt and pepper.
Leek and Potato Soup
This recipe serves 4 to 6
Ingredients:
6 potatoes, diced
2 large leeks, white part only, chopped
2 medium carrots, diced
2 celery stalks, diced
1 yellow onion, diced
2 cloves garlic, minced
2 Tablespoons olive oil
1/2 teaspoon thyme, fresh
1 – 2 bay leaves
6 cups water
1 teaspoon salt
Freshly ground black pepper to taste
Directions:
Rinse the leeks and slice them thinly.
Dice the potatoes, carrots and celery.
Heat the oil in a large stockpot, sauté the leeks for a few minutes.
Add the onion and garlic and continue cooking until onions are soft.
Add the potatoes, carrots and celery.
Add the water, salt, thyme and bay leaves.
Simmer until the vegetables are very soft, about 20 minutes.
Add the pepper.
Remove the bay leaves.
Puree soup in blender or with hand blender.
Add more salt and pepper if needed.
Cooks Notes: Both theses soups are great basic recipes.
Here are a few suggestions to make these soups your own…
For the vegetable soup:
Add some red or white wine
You can add some little meatballs, (cook meatballs in the oven then add to the soup).
Add a parmesan rind while the soup is simmering.
Drizzle some pesto over the soup just before serving.
Garnish with fresh herbs like basil or parsley
For the Leek and Potato Soup:
Garnish with chives or fresh parsley.
Garnish with some crumbled goat cheese or sharp cheddar.
Toast some bruschetta with a little olive oil for dipping.
Make the soup creamy with some cream or milk.
Or for an Asian twist add a tin of coconut milk and a dash of curry powder and a chunk of ginger (omit the thyme and bay leaves).